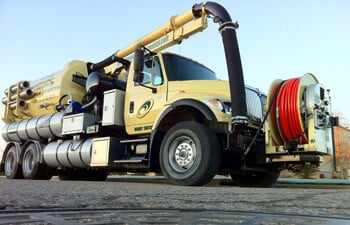 Do you need a reliable contractor for the removal of solid or liquid industrial by product or waste materials? At Plummer's Environmental Services, our vacuum trucks ensure a safe and clean environment by properly removing liquids, solids, and any remaining debris.
Offering a full range of services, we provide the cleaning of trenches, floor grates, oil water seperators (OWS), sand traps, storage tanks, catch basins and more. Through consistent high-quality results, our top-of-the-line vacuum trucks have become a recognized staple in Grand Rapids and its surrounding West Michigan areas.
We are conscious of our effect on the environment and surrounding communities. You can count on Plummer's Environmental to properly transport, treat and dispose of the waste in compliance with all local, state, and federal regulations. We also have our own licensed waste treatment facility to handle all your waste management needs for your needs.
Our Vacuum Truck Services include:
Oil water separator service
Drain, sump, pit, and trench cleanout
Sand trap / grit trap service
Tank pumping (including holding tanks and underground waste tanks)
Spill cleanup
Process water disposal
Sewer water drains
Overflowing storm systems
Catch and drainage basins
Industrial waste transportation for both liquids and solids
Please feel free to contact us at (616) 877-3930. At Plummer's Environmental Services, we are committed towards offering eco-friendly solutions for waste management projects.