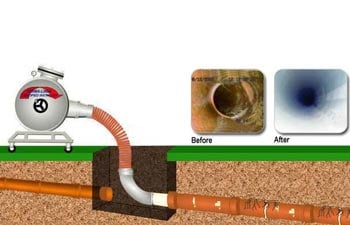 At Plummer's Environmental Services, we specialize in Cured In Place Pipe (CIPP) lining services. Our CIPP process eliminates the need to replace pipes and minimizes digging.
CIPP also eliminates infiltration and root growth, which can cause expensive repairs if left unmanaged.
Advantages of CIPP Lining
Single access point required vs. excavation of 100% of the pipe
Eliminates root growth in pipe line
Seals open joints
Bridges missing pipe sections
Improves pipe flow
Creates a joint-less pipe
Minimizes disruption within your facility, preserves landscaping and underground utilities
Creates a new pipe within the old pipe, eliminating the need for replacement
If you are interested in learning more about how our cured in place pipe (CIPP) lining services can save you time and money, feel free to call Plummer's Environmental at (616) 877-3930. At Plummer's Environmental Services, we are always ready to help municipalities restore waste management systems throughout Grand Rapids and Greater West Michigan areas.